Dentures
Dentures are custom-made replacements for missing teeth and can be taken out and put back into your mouth. While dentures take some getting used to, and will never feel exactly the same as natural teeth, today's dentures are natural looking and more comfortable than ever.
Benefits of Dentures
Replacing missing teeth will help to improve your appearance and smile. Without support from the denture, facial muscles sag, making a person look older. Dentures can help you eat and speak more comfortably.
With full dentures, a flesh-colored acrylic base fits over your gums. The base of the upper denture covers the palate (the roof of your mouth), while that of the lower denture is shaped like a horseshoe to accommodate your tongue.
Dentures are custom-made in a dental laboratory from impressions taken of your mouth. Your dentist will determine which of the three types of dentures described below is best for you.
• Conventional Full Denture
A conventional full denture is placed in your mouth after any remaining teeth are removed and tissues have healed. Healing may take several months, during which time you are without teeth.
• Immediate Full Denture
An immediate full denture is inserted immediately after the remaining teeth are removed. (Your dentist takes measurements and makes models of your jaw during a prior visit.) While immediate dentures offer the benefit of never having to be without your teeth, they must be relined several months after being inserted. The reason is that the bone supporting the teeth reshapes as it heals, causing the denture to become loose.
• Partial Denture
A partial denture rests on a metal framework that attaches to your natural teeth. Sometimes crowns are placed on some of your natural teeth and serve as anchors for the denture. Partial dentures offer a removable alternative to bridges.
New dentures may feel awkward or uncomfortable for the first few weeks or even months. Eating and speaking with dentures might take a little practice. A bulky or loose feeling is not uncommon, while the muscles of your cheeks and tongue learn to hold your dentures in place. Excessive saliva flow, a feeling that the tongue does not have adequate room, and minor irritation or soreness are also not unusual. If you experience irritation, see your dentist.

Over a period of time, your denture will need to be relined, remade, or rebased due to normal wear. Rebasing means making a new base while keeping the existing denture teeth. Also, as you age, your mouth naturally changes. These changes cause your dentures to loosen, making chewing difficult and irritating your gums. At a minimum, you should see your dentist annually for a checkup.
Here are tips for caring for your dentures:
When handling your dentures, stand over a folded towel or basin of water. Dentures are delicate and may break if dropped.
Don't let your dentures dry out. Place them in a denture cleanser soaking solution or in plain water when you're not wearing them. Never use hot water, which can cause them to warp.
Brushing your dentures daily will remove food deposits and plaque, and help prevent them from becoming stained. An ultrasonic cleaner may be used to care for your dentures, but it does not replace a thorough daily brushing.
Brush your gums, tongue and palate every morning with a soft-bristled brush before you insert your dentures. This stimulates circulation in your tissues and helps remove plaque.
See your dentist if your dentures break, chip, crack or become loose. Don't be tempted to adjust them yourself — this can damage them beyond repair
Dental Bridges
Dental bridges literally bridge the gap created by one or more missing teeth.
A bridge is made up of two or more crowns for the teeth on either side of the gap -- these two or more anchoring teeth are called abutment teeth -- and a false tooth/teeth in between. These false teeth are called pontics and can be made from gold, alloys, porcelain, or a combination of these materials. Dental bridges are supported by natural teeth or implants.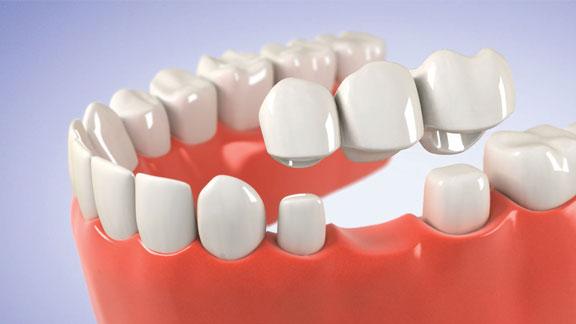 The cost of dental bridges varies depending on the type of bridge selected and the area of the country in which the procedure is performed.
Bridges can:
Restore your smile
Restore the ability to properly chew and speak
Maintain the shape of your face
Distribute the forces in your bite properly by replacing missing teeth
Prevent remaining teeth from drifting out of position
There are three main types of dental bridges:
Traditional bridges involve creating a crown for the tooth or implant on either side of the missing tooth, with a pontic in between. Traditional bridges are the most common type of bridge and are made of either porcelain fused to metal or ceramics.
Cantilever bridges are used when there are adjacent teeth on only one side of the missing tooth or teeth. This is not very common any more and is not recommended in the back of the

mouth

w

here it can put too much force on other teeth and damage them.
Maryland bonded bridges (also called a resin-bonded bridge or a Maryland bridge) are made of porcelain, porcelain fused to metal, or plastic teeth and gums supported by a metal or porcelain framework. Metal or porcelain wings often on just one side of the bridge are bonded to your existing teeth.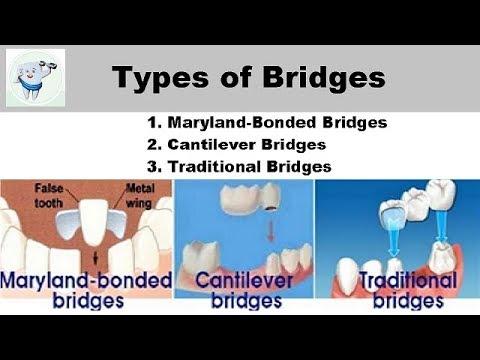 During the first visit for getting a dental bridge, the abutment teeth are prepared. Preparation involves recontouring these teeth by removing a portion of enamel to allow room for a crown to be placed over them. Next, impressions of the teeth are made, which serve as a model from which the bridge, pontic, and crowns will be made by a dental lab. Your dentist will make a temporary bridge to wear to protect the exposed teeth and gums while the bridge is being made.
During the second visit, your temporary bridge will be removed and the new porcelain or metal bridge will be checked and adjusted, as necessary, to achieve a proper fit. Multiple visits may be required to check the fit of the metal framework and bite. This is dependent on each individual's case. If the dental bridge is a fixed bridge, your dentist may temporarily cement it in place for a couple of weeks to make sure it is fitting properly. After a couple weeks, the bridge is cemented into place.
Dental bridges can last five to 15 years and even longer. With good oral hygiene and regular checkups, it is not unusual for the life span of a fixed bridge to be over 10 years