Cosmetic Dentistry
Cosmetic dentistry is generally used to refer to any dental work that improves the appearance (though not necessarily the functionality) of teeth, gums and/or bite. It primarily focuses on improvement in dental aesthetics in color, position, shape, size, alignment and overall smile appearance.
Whitening
Whitening, or "tooth bleaching", is the most common cosmetic dental procedure. The doctor will first evaluate your teeth and smile to determine whether whitening is right for you. In some cases, a different cosmetic procedure may better meet your expectations, but whitening is a safe, fast and easy process that is effective for almost everyone. While many whitening options are now available, including over the counter products, dentist-supervised treatments remain the recommended procedures for lightening discolored teeth.
Laser whitening is a teeth whitening technique in which gums are covered with rubber and a bleaching chemical is applied on the teeth. A beam of argon laser, which is intended to accelerate the process of bleaching, is then projected upon the teeth. This laser activates the bleaching chemical and lightens the teeth color. Laser whitening is said to be six times more effective in teeth whitening compared to other procedures.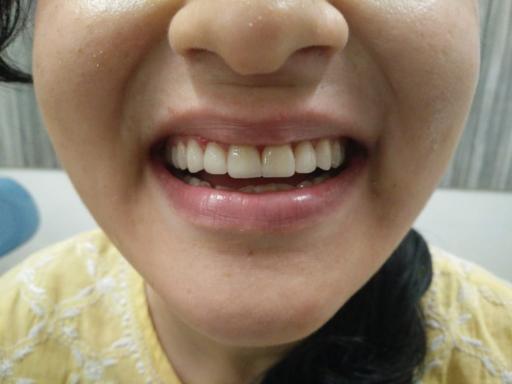 One of our patients happy with Veneers!
Veneers
Dental veneers (sometimes called porcelain veneers or dental porcelain laminates) are wafer-thin, custom-made shells of tooth-colored materials designed to cover the front surface of teeth to improve your appearance. These shells are bonded to the front of the teeth changing their color, shape, size, or length.
Dental veneers can be made from porcelain or from resin composite materials. Porcelain veneers resist stains better than resin veneers and better mimic the light reflecting properties of natural teeth. You will need to discuss the best choice of veneer material for you with your dentist.
Dental veneers do not require any special care. Continue to follow good oral hygiene practices, including brushing, flossing, and rinsing with an antiseptic mouthwash as you normally would.